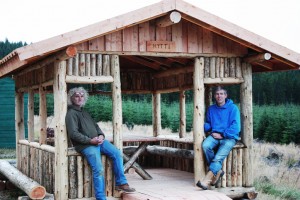 Hytti, the new hut for the Clash is finished. This was carried out as part of the EU Leader initiative, the design came from Finland where Huntly has partnership with the town of Juankoski. A group of Finns came over last month to share their experience in constructing these huts.
Thanks to everbody who contributed there time in the construction, and especially Hilary for her trip to Finland which started it all off.
We couldn't pass over the chance to make a special mention of thanks to Steve Young and Dave Whitehead for donating their professional skills in construction of the new building.