Here are the results for last weekend's rollerski races. The normal championships was run on Saturday, with a couple of extra events on Sunday for fun.
Despite a very wet start Huntly managed to produce fine weather for Saturday's racing. The turn out was good with a crop of new faces from the Kids club and also some new visitors from the Army.
The races were split into Senior/Veterans (10 laps), Under 18/U16 (7 laps), Under 14 /U12 5 laps and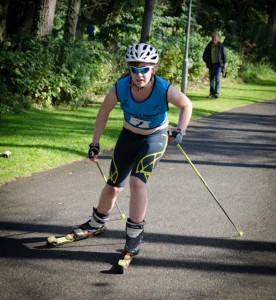 Novice 3 laps of the outer loop.
Ben Wooley took the top position in the Seniors Race, with Hector Cowie narrowly pipping Sandy Wishart into Second Place.
The U18/16 classification saw U16 Duncan Gibb beat U18 Gregor Young by a mere 7 seconds. Beth Maclean took a lead of 28 seconds over Lynn Gray.

U14 saw Brodie Murray coming out on top of an impressive field containing, Jack Nicholls, Oliver Newmand and Fergus Newman. Calumn Cooper took the U12 Male title.
In the Novice Race David Massie posted the fastest boys time and Cairngorms Katy Matthew took the girls' title.
More Photgraphs on Huntly Nordic's  Facebook Page
Full Results