The first Nordic Ski Race officials course to be run in the UK in 17 years was held at Huntly On the 2nd and 3rd May 2009. The course was presented by Jim Davidson one of only two FIS qualified Technical Delegates in the UK and run under the banner of Snowsport Scotland.


The idea of the course was to produce level 1 and level 2 qualified race organizers. We now have skiers competing at world cup level in nordic races so there is a need to improve the quality of race organization in the UK. Although the possibility hosting a FIS level on snow event seems to be becoming more remote every year, a rollerski event could be practical.
As well as delegates from Huntly, students were present from Higland Nordic, Caringorm and the Army.
The first presentation was made by Gordon Seaton who gave the attendees an overview of Nordic ski racing in the UK in the past 20 years. The chair was then handed over to Jim for the rest of the course. The emphasis was on how a modern Nordic ski event would be organized to FIS level, and how this could practically be implemented in UK.
Saturday afternoon included a visit to the Clashindarroch forest to assess the ski area and how it could be adapted to a FIS level competition. Sunday featured presentations on a ski route from the forest and its suitability and how the Clash arena could be laid out to host a FIS event. Frank Musgrave was sent to stand in the corner for not doing his homework!
Finally the day ended with an open book exam on the FIS Nordic skiing rules.
This was quite a demanding weekend, but well worth the effort and should contribute the improvement of Nordic skiing events in the UK, which has to be welcomed by everybody.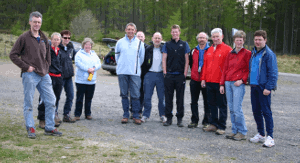 Thanks to Jim Davidson for writing and running the course.
Funding was received from Aberdeenshire Sports Council.