The official results of the Huntly Sprints are now available, Andrew Musgrave took first place in the Men's event followed by Andrew Young and Callum Smith (a clean sweep for Huntly!) and Sarah Young won the Ladies event, Fay Potton took second and U16 Katy Homyer took 3rd .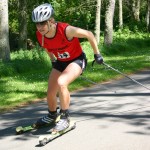 Good luck to Sarah in the upcoming winter season when she will try to up her FIS point rating in order secure a place in the winter Olympics and world cup.
The hill climb results are available below, these are updated from the previous version with some minor errors removed
Thanks to everybody who turned up to race, especially the RAF team.