Eight schools competed in the first Primary Schools' Rollerski and Cross County Ski racing on Saturday 26th November 2016 at Huntly Nordic and Outdoor Centre.
There were some hard fought battles and fantastic skiing by everyone who took part, many of whom were competing in their first ever ski races.
Hearty congratulations to all skiers. Thank you to all the helpers who made the event a great success.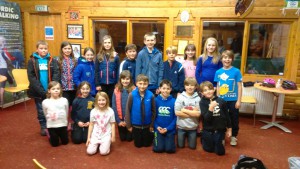 Fisherford Primary School came out overall as 2016 Cross Country Ski and Rollerski Champions
Individual placing were:
Rollerski Boys
1st Logan Duncan
2nd Ben Calder
3rd Murdo Reid
Rollerski Girls
1st Rachel Robertson
2nd Kirsty Beaumont
3rd Anna Calder
Cross Country Ski Boys
1st Ben Calder
2nd Murdo Reid
3rd Logan Duncan
Cross Country Ski Girls
1st Anna Calder
2nd Johanna McKenzie
3rd Nicola Beaumont
3/4 lap Rollerski
1st Isla Robertson
2nd Olivia Mitchell Moore
3rd Hazel Cowie
4th Lewie Monquhitter